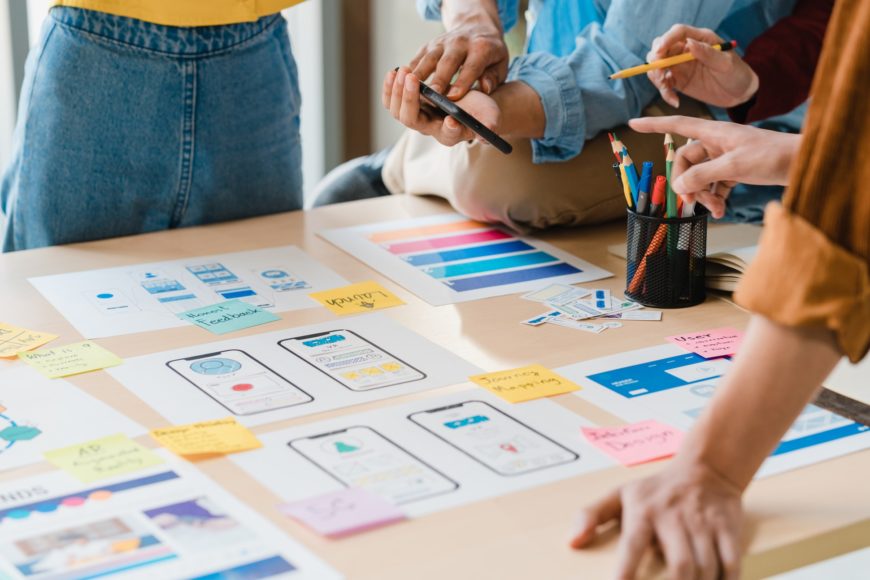 A well-crafted website design can bring much more to the table than just aesthetics. Yes, the appearance of the website design plays a crucial role in grabbing user's attention and encouraging them to engage with the elements and design. But most of the time site visitors leave the website after they start interacting with the elements and design. A well-design website attracts visitors and helps them to understand more about your product, business, and brand.
The indicators, text, encompassing visuals and more helps site visitors to get a better understanding of your product business. But for that is essential to place the elements in layout more strategically and with an effective website design plan. Whether you are looking to start a new website or redesign the existing website you need to have an effective and result-driven website design plan for your website so that all the elements inside your website design work toward accomplishing your business goal.
If you are looking to create an effective and attractive website design for your business then you have landed on the right article where we are going to offer some important insight about why website planning is essential for your business? And how you can create an effective, result-driven, and conversion-centric website design plan. So make sure you stick till the end of this article to explore some of the important points on website planning.
An Overview of Website Design Planning
Today the goal of almost every standard and business website is to drive maximum sales. Most of the successful websites focus on engaging more and more site visitors, informing them, educating them with a goal to convert the site visitor into leads or paying customers.
Websites and businesses can form various marketing strategies to convert site visitors but if the website design fails to engage them then all the marketing efforts can go in vain. Creating a conversion-centric website design starts with a good, effective, and result-driven website design plan.
Business and site owners who directly jump into website design face a lot of difficulties during the whole web design and development process. It mostly happens because of the lack of website planning. Before you dive down to building an attractive and highly responsive website design for your business it's always recommended to create a high-level website plan which can be used during the website implementation.
Website planning is not a complicated or time-intensive process but it can help you to save a lot of time and make the design & development process more effective. The planning process is all about answering a few of the important questions that you might come to access during the designing process. Once you are aware of these answers then it will ensure that you create the most effective website design that helps you in accomplishing your final goal.
The changes you make during the website design, the new functionality, content, and more you add can increase the time, workload, and most importantly the expenses of the website. An effective plan ensures that you identify all these potential changes during the website design planning process so that your website design and development process comes across issues like time pressure, excess budget, and more. In short, a website design planning process helps you to save countless headaches down the road.
Creating a personal blogging website is very much different from creating a website for your personal brand and business. You need to have a clear idea about what you need to accomplish is important to crafting a successful website design for your business. If you are not able to make the right decision at the beginning then at the end of the product you might fail to get the desired results. During the planning process, you might get a good idea about what you need and the thing that you don't need for your website during the designing phase.
If you are looking to know how you can create a website design plan for your website then make sure to stick till the end as we are going to highlight some of the important tips on website planning. But before that let's explore some of the reasons why you need to have an effective website design plan for your website.
If you are looking to avoid the common mistakes committed by most of the websites during the designing phase then make sure to check our blog on 12 Common Web Design Mistakes To Avoid In 2021
What is the importance of having an effective website plan?
Every designer and site owner comes across some kind of issues or commits mistakes during the design and development process. If you are looking to avoid these mistakes that are committed during the website design process then it's essential to have a well-crafted plan in your hand. Almost every successful website on the interest had the website planning as part of the whole development process. The planning process offers you a detailed idea about elements that you need and does not in your website design.
Yes, the planning phase might be time-consuming if you are planning to add more pages and elements to your website but it will save a lot of time and money that goes into creating an unplanned website design for your website. Remember the success of your website design begins with an effective plan. A website design plan offers you a clear vision of what you need to do during the design process. Read more on
https://www.sfwpexperts.com/website-planning-guide-7-steps-to-create-an-effective-website-design-plan-in-2021/
Contact Details:
213-277-9177
Read More Blogs:
Mobile-Friendly WordPress Website Guide: How to Optimize WordPress Website For Mobile