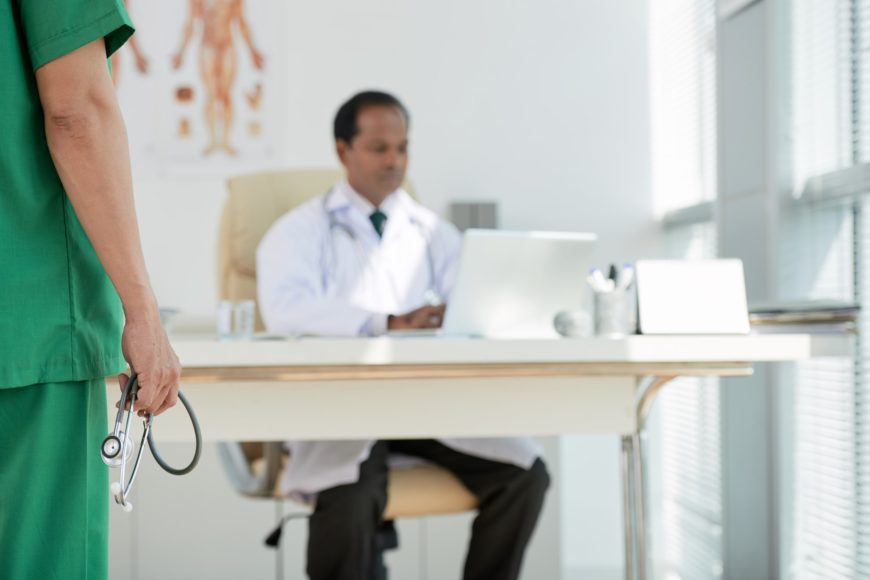 Websites have become one of the easiest and quickest ways to help users get every small detail about your business, product/services, and more. Whether you belong to the law industry, real estate industry, or Health & wellness industry, having an attractive, responsive, and informative website design has become the basic need for every business. Mainly when it comes to the hospital or medical industry creating a website design is essential and can be challenging as well.
Hospitals have a large amount of data including multiple services to offer. Gone are those days when the brochure was distributed to highlight the services and files were used to store patient data. As people are shifting to online platforms and performing searches online to find their answers, there are high chances that your people might be searching for your services. Having a fully functioning feature-full hospital website design can be the best way to highlight your services along with other important information.
Whether you have a small clinic or a huge hospital having a business website can benefit you and your hospital in many ways. But the question comes down to how to create an attractive and informative medical or hospital website? If you are scrolling the internet for the same then you have landed on the right article where we are going to highlight some of the benefits of having a hospital website along with features that you can include in your website design.
Apart from that, we will also be highlighting some of the best practices for creating an attractive, informative, and engaging hospital website. If you are looking to know more about how you can improve your website design then make sure to check our blog on Web Design Trends 2021: 10 Unique Design Trends To Follow In 2021
An Overview Of Medical Or Hospital Website
The medical or hospital website acts as the virtual clinic that helps in highlighting your practices and other valuable information. No matter how popular or effective your hospital name might be in your area and location, you can't expect users to walk into your hospital and ask for services offered. Before any person pays a physical visit to any hospital they wish to grab as much information as they can about the services you offer, doctor name, timing, and other important details.
For that, you need to have a fully functioning medical or hospital website for your business. The website you offer can act as your hospital brochure or we can say a source of information. Not only that but the hospital website you create and offer can help patients to get details about their previous visit and more. In short, the hospital website you create and offer to your audience will act as the information source that will help you to attract more patients to your clinic.
There are high chances that people might not be aware of the availability of different departments like oncology, hematology, neurology, and more in your hospital. You can't expect them to visit your hospital to get a detailed idea about these departments and also to check whether they are available on your website or not. One of the easiest ways to help people get information about the department is by creating a website that offers detailed ideas about every small individual department present on your website.
Health and wellness industry is seeing huge growth in the number of online searches. According to the recent report, nearly 80% of Americans, or we can say about 93 million Americans make use of online platforms to search for health-related topics. Apart from that 63% of the people opted for online platforms to search for detailed information about a specific disease or medical problems and around 47% of the user made searches on different medical treatments and procedures.
By creating your clinic or hospital website you do not only highlight the services you offer but you can also make use of it to showcase the latest technology you are using to cure the disease. If you're looking to achieve maximum success and drive more patients to your hospitals and clinics then it's essential for you to create a strong online reputation and presence. It starts with having an attractive and user-centric website design that grabs user's attention, answers their problems, and encourages them to book an appointment.
Keeping that in mind we have created this particular guide that will help you in getting a detailed idea about why you need a clinic or hospital website and what features you can include in your website design to make it more effective. If you are looking to optimize your conversion then check our blog on:
Website Design Tips For Better Lead Generation: 7 Ways To Improve Website Lead In 2021
10 Website Design Tips To Improve Conversion Rate In 2021
Why does your clinic or hospital need a well-crafted website design more than ever?
Before we start to highlight some of the important website design tips for clinics and websites we would like to get started with listing some of the important reasons why clinics and hospitals need websites more than ever. Before selecting any hospital or clinic, people go through in-depth research to get a detailed idea about your previous work, market reputation, and more. Due to the availability of multiple options, people have more power to decide with whom they wish to work on a day-to-day basis.
Having a website allows you to highlight every small detail about your hospital right from the doctor's details to the technology you are using and more. You might be doing every right from offering the best medical services to patient interaction to offering outstanding facilities and more. But people out there might not be aware of the benefits they will get after consulting from your hospital and with your doctors.
With the help of a user-centric website design, you can highlight every small feature and USP of your clinic and hospital. A website has the power to make your small business offer a competitive edge that means with the help of a website you can compete with larger hospitals in a centralized location. Today there are many hospitals and clinics that don't have any website on the internet. Not only that but more than half of the hospital websites on the internet today are not mobile-friendly.
Many healthcare providers think that having an online presence is unnecessary and marketing their practices online is a total waste of time and money. Mainly because they get enough business, if you think the same then it's time to reconsider your thinking. Yes, it's true that sales and marketing, or we can say brand awareness is a part of the job of a well-crafted website. It can be also used to servicing patients, making things more convenient, and most importantly transparent. Read more on
https://www.sfwpexperts.com/website-design-for-hospitals-tips-to-consider-before-building-a-hospital-website/
Contact Details:
213-277-9177