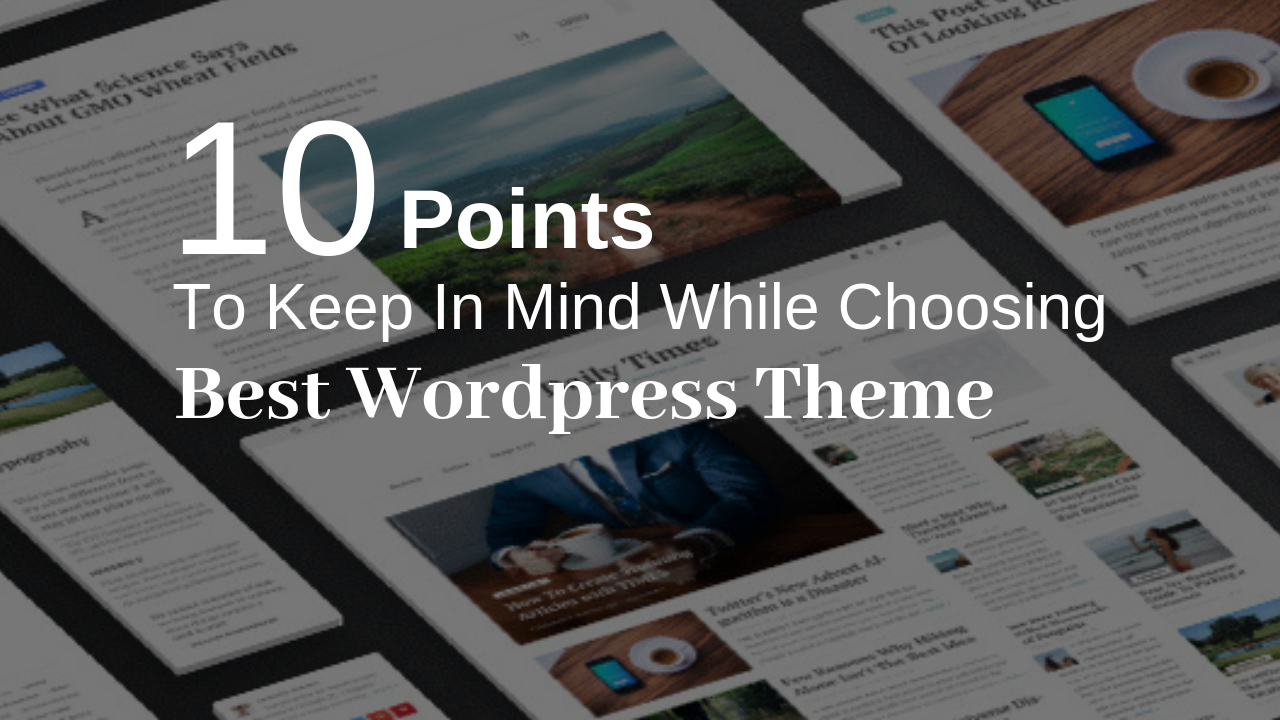 Getting a new theme is like buying a new car, well it may not be as costly as your dream car, but it should as good as your car! Because people will judge you based on your theme and car as well, it may and will affect your company's reputation.
So here are 10 tips that will help you create your ideal mascot i.e website.
1. What Do You Want?
We mean features! What features you are looking for? Based on that you can pretty much choose your ideal theme. So that you can customize it further rather than trying to integrate a feature that never existed in your theme.
2. Responsive Themes
Responsive can adjust to any layout based on the device. For example, you can run site in a PC and run the same in the mobile. There will be few differences between both the layouts. Like in PC we have large screen so all the details will show and you can navigate through the site with ease but in case of mobile where the screen is small so few features will be hidden under some buttons. But you can access the site without any problems. This will happen in responsive themes only. So it better to have theme that can adjust to all ecosystems.
3. Compatibility
It's similar to the above tip but in a different way! There are a ton of browsers out there. While few maybe outdated (lacks moderation) but people still use them knowingly or unknowingly. Your theme may look as the best theme ever in your browser but it may look different in others. For instance when you open Youtube in mozilla firefox you can observe a larger screen while in Google it's slightly different. But the size is kind a negligible. But make sure that your website doesn't look funny in other browsers by choosing a compatible theme.
4. SEO Friendly
It's so vital that without proper SEO your CMS site is good as dead. When is the last time you opened the 3rd page in Google search results? What I mean to say is that without proper SEO your CMS site will placed so deep in the search results, that the only way to access your site will be URL. Well there is no need to worry, the Wordpress developers will offer you SEO optimization themes. So definitely select a theme with SEO optimization.
5. Plugins Support
The true essence of a WordPress theme comes from its plugins, some free themes in WordPress may not support few plugins so if you want to cut the costs try getting a free theme that supports all the plugins that you need.
6. Help & Support
WordPress has many things but it lacks one main thing, customer support for some free themes, while you may get best in class support for free themes you may not get support (24/7) for few as well.
7. Premium
There are a lot of free themes in WordPress and are great as well, but they lack the essential quirks like support for all the plugins, support, sometimes the developer may abandon the theme and lack of updates. So all you have to do is pay little from your profits and you will not be disappointed with your WordPress CMS website, will enjoying all the luxuries like New features, excellent support etc.
8. Page Builders
These are WordPress plugins that will help you in your website making. By using page builders you can drag and drop the blocks that you need. So get yourself a theme that supports page builders you can also look into using Gutenberg.
9. Readable Fonts
You may have built the ultimate website, but it is not good, that makes your customers difficult to understand what they seen just now! If you are trying to make website look more stylish by using weird fonts and layouts then stop doing what you are doing and select a proper theme with proper fonts and layouts so that you won't regret what you have created.
10. Testing and Reviews
Nothing feels better than success. And the only way to find whether you are successful or not is by taking reviews from the public and doing some testing. Testing will help you check whether your site is working as should be while taking others opinions and reviews will tell you what you should include and where you should improve.
So these are the 10 point that you should keep in mind before choosing a theme.
While there may be few other minor things that you should keep in mind based on the target audience, so play it safe and by book, create awesome website :)
We're a full-service WordPress website design agency in San Francisco that will plan, design, build and maintain your mobile-friendly WordPress websites and apps without burning a hole in your pocket.